***FIELDS ARE CLOSED effective May 9, 2021***
May 4th update:
***As per the provincial update tonight, DSA will continue soccer for this week. Starting Sunday May 9th, we will pause and resume when we can. Once again, your patience is going to be required as we move through this. We are not giving up yet as we need to see how this plays out and what options our executive come up with in the next few weeks. Coaches and players hold onto your equipment and uniforms, and watch here for future updates***
RAMP APP is activated and every parent and coach should have received an email with instructions. All parents and staff are required to use the app. It has all your team information and schedule. Parents/Coaches should rsvp every practice (this attendance log will be used for contact tracing should we have to comply with a request from AHS).
This week (unless coach messages otherwise)
Monday May 3rd 6:30 pm U6, U10, U12 all teams
Tuesday May 4th 6:30 pm U4, U10 all teams
Tuesday May 5th 7:30 pm U15 all teams
Wednesday May 5th 6:30 pm U6, U10, U12 all teams
Thursday May 6th 6:30 pm U4, U10 all teams
Thursday May 6th 7:30 pm U15 all teams
MORE INFORMATION in the division homepage (instructions follow below)
COACHES AND ASSISTANT COACHES STILL NEEDED
| | | |
| --- | --- | --- |
| DIVISION | COACHES NEEDED | ASSISTANT COACHES NEEDED |
| U4 | 0 | 0 |
| U6 | 0 | 1 |
| U8 | 0 | 2 |
| U10 | 1 | 0 |
| U12 | 0 | 0 |
| U15 | 0 | 0 |
DSA is looking for a volunteer Technical Coordinator
A crim check will be requires as soon as the RCMP start doing volunteer crim checks again. If you happen to have a crim check (valid 3 years) please email a copy to info@devonsoccer.com).
Duties include: mentor new coaches, assist with policies, stay knowledgeable with rules of game play, attend DSA meetings and events.
Time commitment: In season 1-4 hrs/week; off season 0-1 hr/mth.
Covid Protocols:
If your child or anyone in your home is sick or has been a direct contact with someone who has tested positive for COVID - please stay home.

Please limit spectators on the side of the field to one per child (parents who are coaches do not count in this ratio). Spectators should be 3 meters back from the field, opposite side of players for U8 and up. Please use appropriate outdoor social distancing measures.

Each group will have a max of 10 participants, including players and coaches. The U4 & U6 practice teams will remain the same if games open. The U8 and up, have an A & B practice team, should games open, each set of A & B will join to make a team.

Contact tracing will be necessary should a case happen. We will utilize the RAMP app to record attendance. Further instructions on the RAMP app will be sent closer to start date.

We ask that coaches, players, and spectators use hand sanitizer before and after each session. There will be hand sanitizer available to each group of Devon fields, in case you forget yours.

Coaches will be required to wear a mask during sessions. Players will not be required to wear masks on the field. We ask that coaches, players, and spectators wear a mask getting to and from the fields, if social distancing is not feasible.

No games will be played at this time, only lessons and physically conditioning while social distancing. Coaches may get closer to assist players for short amounts of time.

Coaches will be responsible to cleaning all balls each session. Details and supplies will be issued at coaches meeting.

Players need to have a clearly labeled water bottle at the side of field.

This list is subject to change as public health restrictions change.
PC Instructions (phone ones are below):
1. Select age division
Note: Field MAPS in yellow (Map 1 is overview of all fields; Map 2 is U4-U8; Map 3 is U10-U15)

2. Select U** Homepage

3. See general division information, links to team information, and the schedule (This will also come out in the RAMP App this week, watch for emails.)

Phone Instructions:
1. Select age division
Note: Field MAPS in yellow
(Map 1 is overview of all fields; Map 2 is U4-U8; Map 3 is U10-U15)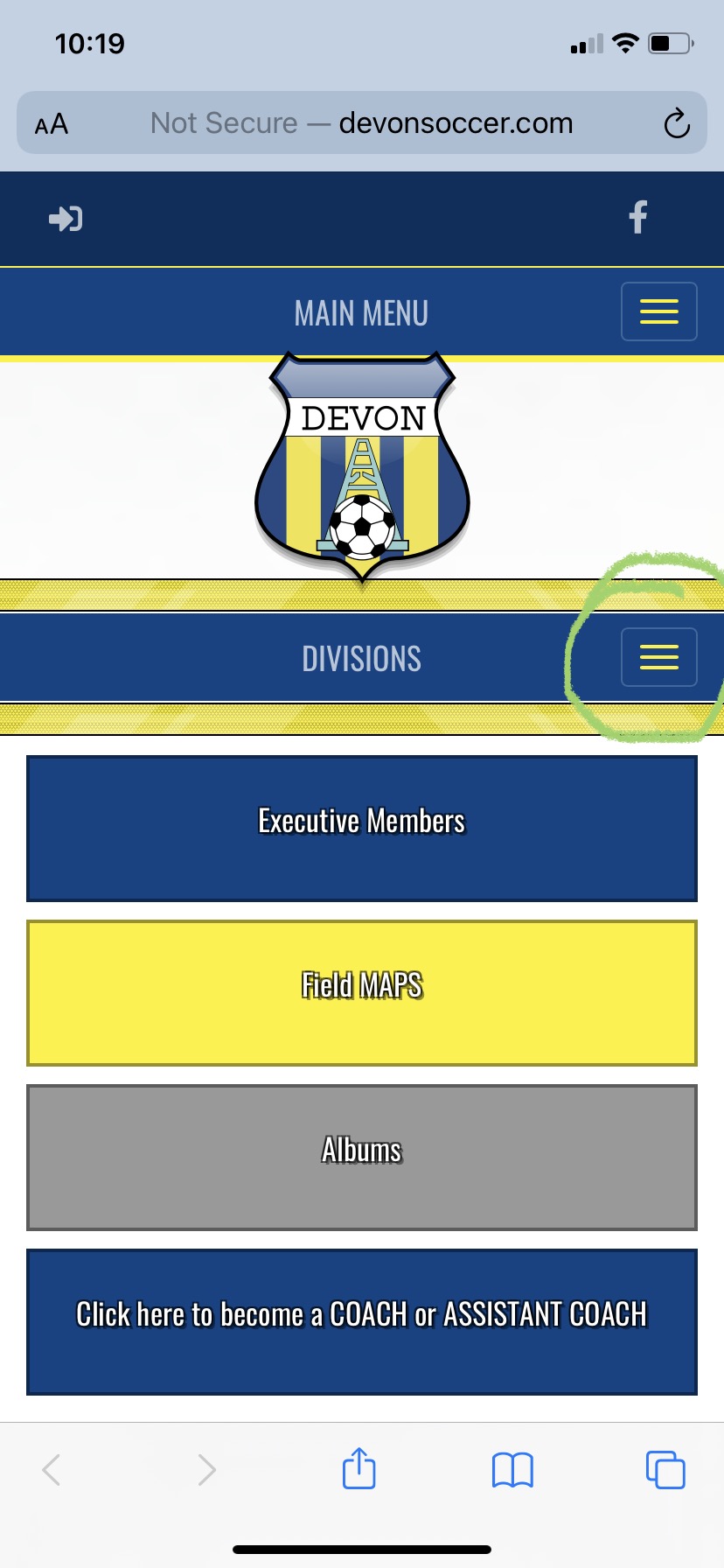 2. Select U** Homepage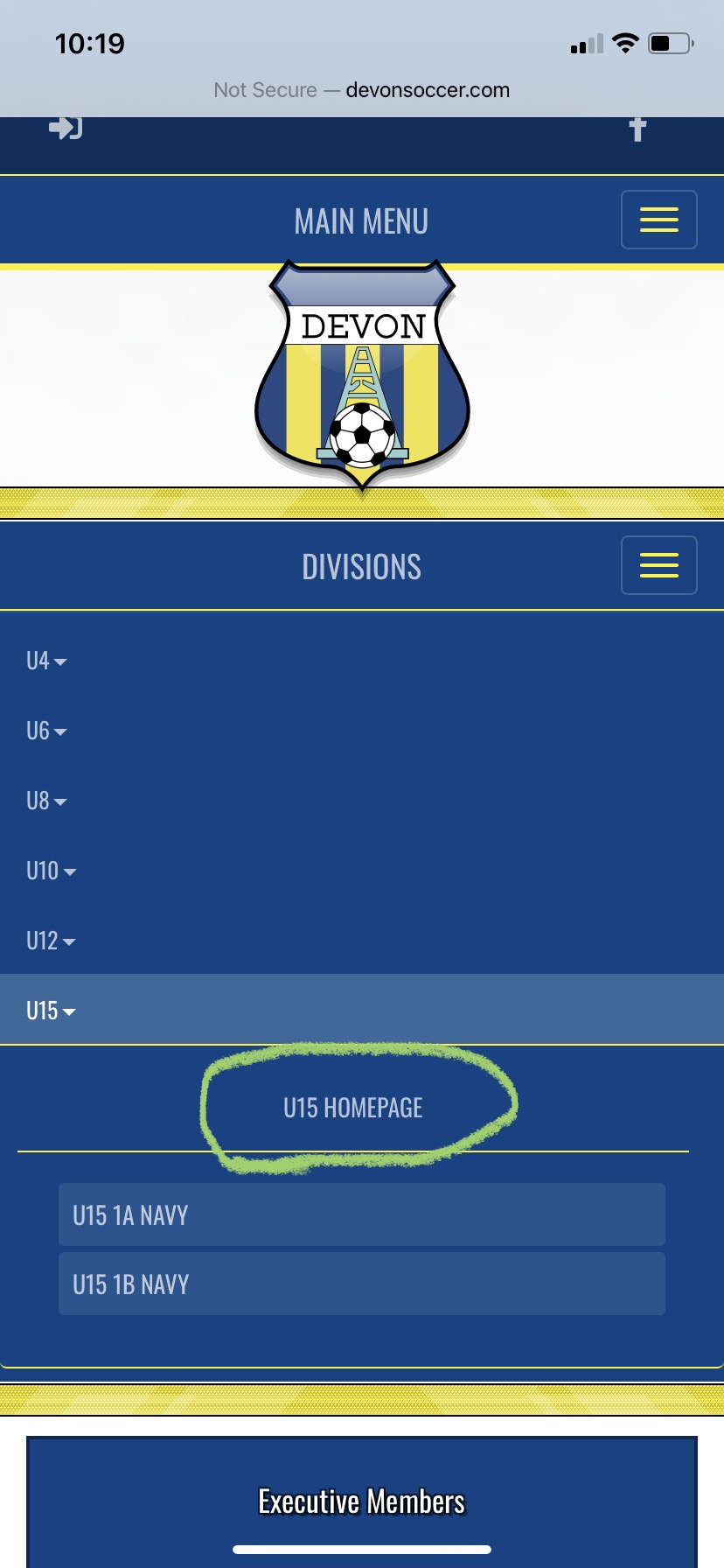 3. SCROLL DOWN ON THIS NEXT ONE AS THE INFORMATION JUST
KEEPS GOING...See general division information, links to team information,
and the schedule
(This info will also come out in the RAMP App this week, watch for emails.)